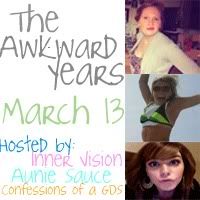 My awkward years would be circa 1995.. the time of overalls, Mickey Mouse clothing, and wide legged jeans. Chunky blonde highlights in my hair, braces, and no contacts.
I only wish we had digital cameras back then! The few pictures I have scanned from home hardly do my awkwardness justice. But let's start with this one:
Sissy-la-la, Mommy-Dearest, Awkward Me
Why yes, I
am
rocking prescription sunglasses, an awesome tie-dye shirt & a hip-bag. Throughout my childhood, my mom would pack my sister & I up and take us to Brownsville, Oregon; home of the hippies. We would help my favorite aunt and her family pack up to go to the Oregon Country Fair. We would put up the tee-pee and circle the tents and custom VW bus to make a fabulous little campsite. This is only the beginning of my awkward stage.
Wow-za. I must have felt as awkward as I looked! No boyfriend, at a party, probably should have hid under that blanket! This picture was recently added to Facebook by an old friend. Thanks for that.
See the braces there? We all had braces, didn't we. I also love my baby-fat cheeks. Is that a dimple or a pimple? Hard to say.
Sissy-la-la, Sarah, Pam, Awkward Me
Here is a fine specimen of a true awkward adolescent. By this point I think I had contacts, but still had braces. Notice the trendy W.W.J.D. bracelet & girls with bangs. This photo was taken my freshman year of high school. Freshman year, yup, I was awesome.
Well guys, it was fun looking back at my awkward years. If you want to see more, go check out the link-up at
Confessions of a Graphic Design Student
.